What is RENTANDO
We developed this software in 2016 for a company that rents equipment for events (in Hermosillo, State of Sonora, Mexico), such as tables, chairs, tableware, etc. They needed to have inventory control at all times to know whether there would be enough material in stock for a new order next week or if they would need to sub-lease it.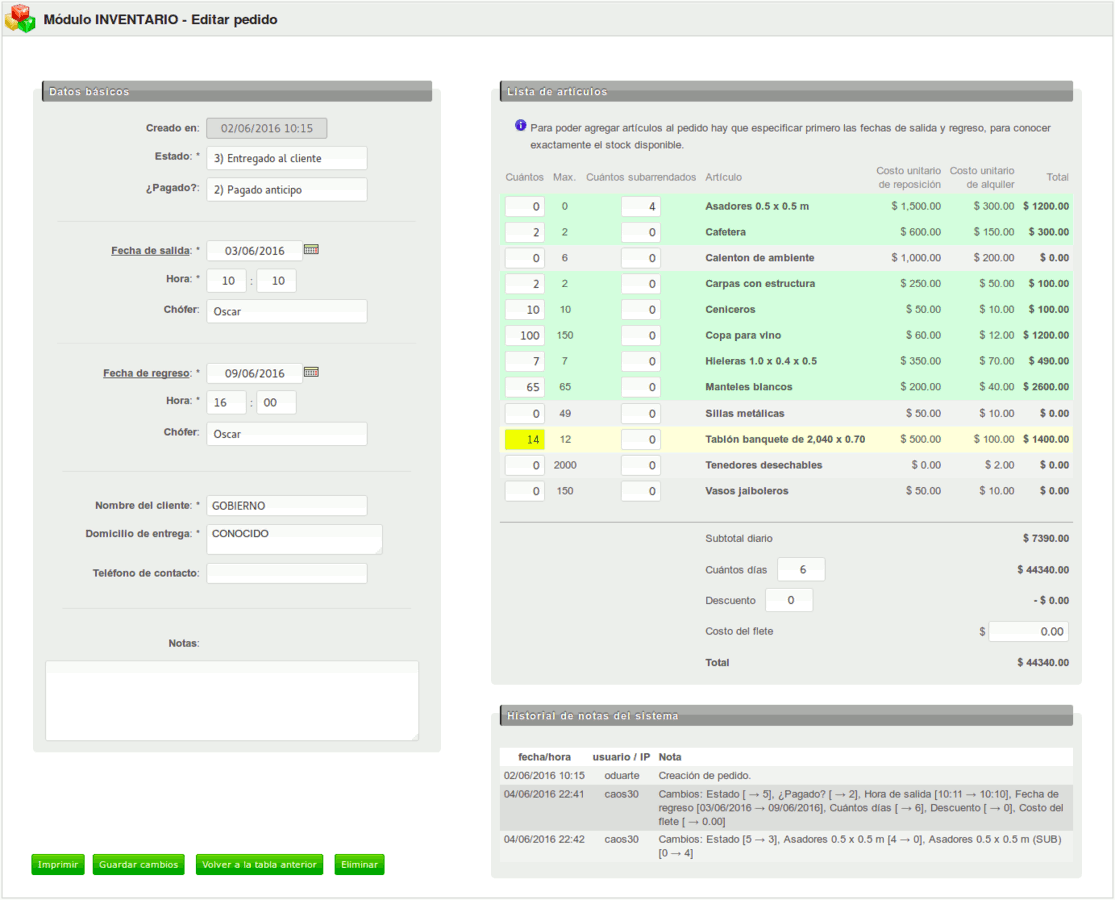 Over the past six years, we have improved the software according to the needs of our clients. Some also use it to rent spaces (party rooms, wedding venues, etc.), to rent vehicles, and to rent tools.
In 2018, we turned this software into an ONLINE PLATFORM so that other companies can also manage their own database of assets, customers, and orders. We offer it in a PAY PER USE model: you do not pay a fixed fee each month, but instead, you load balance into your panel (by transfer or with a card) and the system deducts $0.40 USD (or the equivalent in your currency) per each rental order for your clients that you add in the system.

Video: on how to remove unusable units from the rental inventory
In this video guide for administrator users who are already customers, you can get an idea of what the software is like and how easy it is to work with it. In the
News
section, you have more guides like this one. But if you prefer, below this page you have a contact form to request access to our DEMO.
Key Benefits

It is 100% online
So: 1) you don't need to install anything, 2) you can access it from anywhere with internet access, 3) your information is secured with daily backups.

You only pay when you use it
There are no fixed or monthly costs. It's only $0.40 USD per adding an order from one of your customers.

Simple control over your data
Customer history, assets, income statistics by month and year on screen (total or by asset), you can even download the accumulated data into a spreadsheet.

The best customer support
We can assist you with any doubts or implement any improvements you may need in the system. If what you are requesting for is a "large-scale" improvement, we will provide you with a quote.
Slideshow with 10 images
Do you want to see what rentando.net is in pictures? Well, enjoy this presentation:
Pay less, enjoy more!
Our competitors charge you each month and only offer premium features to those who pay more. Unlike them, we don't use plans. You pay a fixed price and have access to all features with no additional costs.
You only pay when you use it.
There are no fixed monthly or yearly payments. You only pay a small fixed amount for each order you add to the system. Other platforms charge a monthly fee or a percentage of the amount of your orders. In the next section, we give details about the payment.
Multi-user. With remote access and secure encryption.
Securized login with two-factor authentication. Also, you can add as many users as you need, at no extra cost.
Different PDFs for an order: quote, shipping sheet, etc.
From the order details, you can generate any of these PDFs with one click. In the settings, you can customize their appearance and the columns that you want to appear. The shipping sheet includes a space for the customer to sign upon delivery of the material. You can also define as many PDF models as your company's operations may require.
Inventory, stock, and warehouse management.
You can add unlimited products to your inventory. You can set them aside when you need to repair or maintain them. You can also distribute them across different warehouses.
Different price tables.
You can define more than one price for each product. For example: general, government, sublease, etc... And then select a price table when creating an order.
Replacement cost for each item.
In the event of damage or loss by your customer, you can display this information in the order PDFs.
History of each item and order.
For items, this is automatically generated with variations in stock, price, orders, etc. For orders, changes in dates, items, order status, etc. are automatically recorded.
Smart order list and calendar view.
To control day-to-day operations, with alerts and color-coding, and abundant contextual information. You can sort orders by date, driver, etc. With just a glance, you can see orders that are pending payment. The system will even alert you if an order is running late in terms of delivery or return. You can also search and apply filters to the list. Recently, a CALENDAR VIEW has been added to provide a more concise view of orders by day and week of the same month.
Order statistics.
The system displays order and revenue statistics in various areas and sections of the interface. In the item list, you can see the amount of money earned from each item, for example. Upon logging in to the dashboard, graphs of orders per day and per month of the year are displayed. Etc.
Locking of returned materials for a few hours for maintenance tasks.
You can define a margin of X hours for each type of item in your inventory, so that it remains UNAVAILABLE for rent after returning from a rental to a customer, for maintenance tasks such as washing tablecloths, cleaning tables and chairs, etc.
Download all your data in Excel/CSV.
Export and download all orders in a CSV spreadsheet file. This way you can keep a copy of this information, including the details of each order, assets, and prices.
Massive item import assistant.
You can download a CSV file with all your assets, modify it to add hundreds of assets or modify existing ones, and then import it with just 3 clicks.
Driver table.
You can add unlimited drivers. The system highlights in the list those who have a service scheduled for today. It also keeps track of the history of their services.
You can create custom fields for your orders.
To facilitate the day-to-day management of your orders, you can define as many extra fields as you need for the rental operations in your company. These fields can be used to save dates, names of people, status updates, service details, etc. You can choose to keep this extra information hidden from the customer, or include it in one of the PDFs.
Subscribe to your order list from Google Calendar and other platforms.
The system provides you with a subscription URL that can be used in Google Calendar or any other calendar management tool, even on your phone, so that you can easily view your order calendar.
Simple, user-friendly interface in your language.
The entire platform can be used in Spanish, Catalan, and English. Additionally, any other language that you may need can be added. You can also be granted access to customize certain interface text with terms that are more suitable for your company's needs.
Continuous updates.
Every month, we add small improvements to the system based on our clients' requests or our own decisions to expand the platform's functionality. The advantage of this cloud-based software is that users do not need to install, uninstall, or update anything... the system continuously incorporates those improvements.
You only pay when you use it
$0.40 USD
€0.40 EUR
$8 MXN
PER EACH ORDER FROM YOUR CUSTOMERS
Free signup: we set up your account completely free and deliver it ready to use.
Initial balance: to start, you must load a minimum of $20 USD €20 EUR $400 MXN in balance. Enough to cover your first 50 orders.
Fixed fee per order: every time you add an order from your customers, a very small fixed amount (as indicated above), $0.40 USD €0.40 EUR $8 MXN, is deducted from your balance.
No additional fees: you are not charged for adding as many items as you need in your inventory, nor as many users as you need, nor any type of periodic fixed charge.
Balance reload: the platform will notify you when your balance is running low, and with one click you can reload your balance (payment by online card or transfer).
Your balance has no expiration date: you can go months with very few orders or even without using the system, and you don't lose the money you put in.
Free system updates: with periodic innovations included.
Technical support and user assistance included.
Customer Love: What They're Saying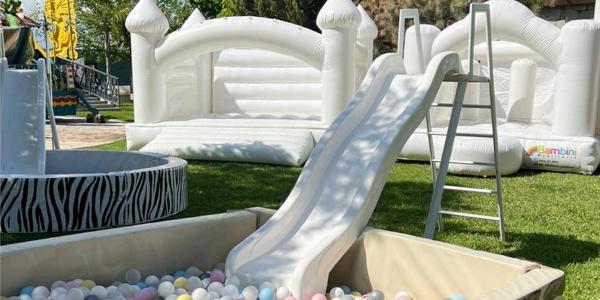 Elsa R. - Bambini (México)
The RentandoNet system has been extremely useful for us, it's super easy to use and provides great value to our business. We make fewer mistakes and are quicker when quoting and planning our shipments.
We came to this site through a co-worker, and the truth is that the time we have spent with Sergi, everything has gone wonderfully for us, the treatment, the flexibility, the speed and the ease of payment and use, will make us We spend a lot of time with them.
Oyvind A. - MTI (Norway)
Easy to use software and wonderful support.












Experience the Power!

Try The Demo Now!
If you're interested, we have a DEMO up and running to try out how the platform works. Write to us using the contact form below.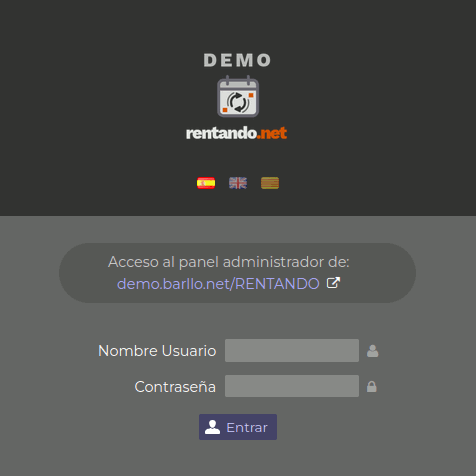 Contact us
If you want to request access to the DEMO, clarify any doubts, or SIGN UP, fill out the following form and we will contact you within 24 hours.